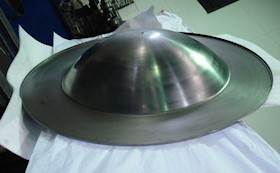 Mild Steel is typically easy to spin. It is commonly used for forms which cannot be easily pressed out.
Typically it is best to use a heavy gauge metal for spinning mild steel unless the weight of the item is an important factor to consider.
This is because the metal is liable to be worked thin by being drawn out during the spinning process.