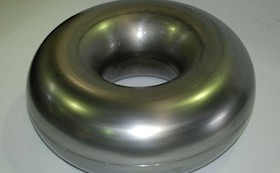 Stainless Steel Specialists
We at Whitehorse Industries have, and still are specialising in spinning and forming, the art of stainless steel for well over 50 years.
In working with stainless steel, there is a certain amount of respect that should be had to be working with it. It is certainly a very durable and hardy material, that looks great, non-corrosive, and very tolerant to high pressure and temperature.
We have long had the skill to be working Stainless Steel into different shapes and sizes, but with working this particular material, comes along work hardening of it.
We will spin, or form the metal, until it gets to its yield point, where the material will start to stress and deform, so once we have got to that stage, the item will require a vacuum anneal process, which stress relieves or normalises the material back to a workable stage.
Not all spinnings, or pressings will require this process, it all depends on the shape and draw of the product.
Thicknesses and grades of material we work with, range from .55mm up to 5mm thick.
Different grades
304/316/316L/321
No.4 (brushed)
No.8 (Mirror)
SAF 2205
LDX 2101
445m2
253ma
Titanium