Whitehorse Industries manufacture the grain sieves for the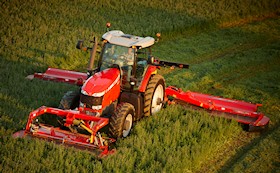 (previously the Australian Quarantine & Inspection Service – AQIS), used for the inspection and quality control of grain.
We also manufacture agricultural equipment parts and structures for numerous other agricultural companies such as large diameter spun rotary discs used for grass slashing and crop cutting made from 5.0mm Mild Steel.
Stainless Steel Circular sorting tables up to 1400mm Diameter in 3.0mm – Stainless Steel for sorting produce on a production line.
Bulk storage systems include metal spun Silo storage components, such as Conical or Dome Tops and Bases for large and small fabricated storage tanks.
Materials vary from Galvanised Steel to Stainless Steel, also we manufacture inspection Manhole and Manway Cover Systems to suit any round or square bulk storage vessel application.
There are many Large and Small components that we can manufacture for the farming & Agricultural sector, for example;
Silo Storage Hoppers – Large Domed Silo lids up to 1500mm – common material used are galvanised sheet or stainless Steel.
Other component used in silos are manway covers or inspection caps – also in galvanised sheet or stainless steel. We can also use Mild Steel and Aluminum Sheet.
Another application for spinning is hay cutter bases in heavy gauge steel – 3mm, 4mm or 5mm Steel sheet.
Commercial mower deck bases that rotate at high revolution – metal spinning is a great option as the spinning process maintains good balance feature, as opposed to welding and fabrication of spinning parts.
Some smaller applications, we have a range of grain sieves with fitted catch trays.
Our standard size is 300mm diameter and from 50mm to 75mm to 120mm deep with matching fitted catch trays of 50mm to 75mm deep.
One of our models has a fully stackable option of sieve bodies that can have varied wire apertures fitted that allow various grading of product options;
Eg: wheat, barley grain etc.
The sieve bodies & trays are constructed off deep drawing Aluminum with a white powder coated finish. We also offer over 20 different mesh inserts with varied mesh aperture and wire thickness in both stainless steel mesh and zinc plated mesh. We are flexible to customers' special requests CNC punched sheet to the sieve.
More basic agriculture applications are fence post caps, various styles either domed top to limit water & weather deterioration or basic flat caps. Material commonly requested are heavy gauge Gal or Mild Steel up to 5.0mm tick or light duty applications in 0.9mm Gal, Mild Steel or even some Stainless Steel. Diameters vary from 50mm up to 1500mm.
Older agriculture applications we've been involved with include Water Cart tanks. Eg: Furphy water carts. The tank ends are formed by metal spinning.
We have the capacity to manufacture tank ends for storage of water or product. Our in-house tooling ranges from small volume tanks around 150-200mm diameter to our large tank ends are;
1634mm Dia – material used are Mild Steel, Stainless Steel, Galvanised Steel, Copper & Aluminum, all up to 6.0mm material thickness. Also, many optional sizes ranging from 200mm Dia to 1600mm Dia.
Other very old agricultural applications are helping to restore ancient agricultural farm equipment as a request by fanatical collectors;
For example:
Lanze bulldog flywheel covers
Steam tractor boiler ends in heavy gauge steel
Steam tractor stack top caps usually in copper or brass sheet and some in mild steel
Steam box doors in heavy gauge steel and many general round components that were hand made in the early 1900's.
For these restorations, we offer a budget composite tool option that is suitable for small quantities, this option includes partial steel and timber construction, being the composite tooling.
Some other applications of spinning are the Dairy / Milking industry. We provide stainless components for automatic milking machines, storage vessel lids in 316 stainless steel – also a verity of specialized hot water storage tank ends from specialized material being SAF2205 Duplex to enable extra high temperature applications and total sterilisation of machines daily to help avoid bacteria.
Even rotational plastic mould tooling can indirectly be a by-product for the construction of water tanks, which are commonly found in most agricultural business.