Aluminium Spinning
We specialise in aluminum spinning. It is the one of the most used metals for spinning due mainly to how easily it can be spun. Aluminium is a versatile metal that is easy to work with.
It is lightweight which makes it perfect for making both simple and complicated shapes that would be difficult to make in other metals such as stainless steel. Of course, aluminium also doesn't rust which makes it a perfect choice for marine uses.
Aluminum can also be sanded and polished.
Some of the examples of our aluminum metal spinning are covers, shrouds, aluminum cookware, aluminum lighting, hemispheres, balls and cones.
Mild Steel Spinning
Mild Steel is typically easy to spin. It is commonly used for forms which cannot be easily pressed out.
Typically it is best to use a heavy gauge metal for spinning mild steel unless the weight of the item is an important factor to consider.
This is because the metal is liable to be worked thin by being drawn out during the spinning process.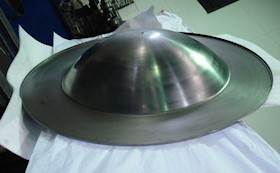 Stainless Steel Specialists
We at Whitehorse Industries have, and still are specialising in spinning and forming, the art of stainless steel for well over 50 years.
In working with stainless steel, there is a certain amount of respect that should be had to be working with it. It is certainly a very durable and hardy material, that looks great, non-corrosive, and very tolerant to high pressure and temperature.
We have long had the skill to be working Stainless Steel into different shapes and sizes, but with working this particular material, comes along work hardening of it.
We will spin, or form the metal, until it gets to its yield point, where the material will start to stress and deform, so once we have got to that stage, the item will require a vacuum anneal process, which stress relieves or normalises the material back to a workable stage.
Not all spinnings, or pressings will require this process, it all depends on the shape and draw of the product.
Thicknesses and grades of material we work with, range from .55mm up to 5mm thick.
Different grades
304/316/316L/321
No.4 (brushed)
No.8 (Mirror)
SAF 2205
LDX 2101
445m2
253ma
Titanium
Tube Spinning
Our tube reduction and expansion processes allow for differing pipe diameters to be joined. Mild Steel, Stainless Steel, Copper and Aluminium can all be used in the metal tube spinning process to suit your specifications, including:
Truck inlet and exhausts
High pressure refrigeration
Large diameter stainless steel